The CY 2021 Medicare Physician Fee Schedule (PFS) final rule released on December 1, 2020, finalized policies to the Merit-based Incentive Payment System (MIPS). MIPS eligible clinicians will have payments increased, maintained, or decreased based on relative performance in four categories: Quality, Cost, Promoting Interoperability (meaningful use), and Improvement Activities. Due to the current COVID-19 pandemic, CMS said MIPS final policies have been limited to only the highest priorities to continue to advance policy goals of the program while being sensitive to providers responding on the frontlines.
Key 2021 MIPS Policies
The table below provides a summary of key policies for the 2021 MIPS program.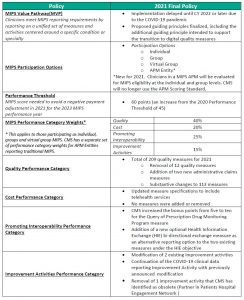 The CMS QPP factsheet is available here.
---
For more information visit the McDermottPlus Payment Innovation Resource Center or contact Sheila Madhani.